At our last Neuger CO.LAB, on December 8, we covered the topic of user experience (UX), and how using UX research strategically can help to build better experiences for your company's future customers. This recap will give you tips and tricks to make sure you have all the tools you need to optimize your company's user experience. For this Neuger CO.LAB, we spoke with our own Daniel Edwins.
Takeaways
What is user experience?
User experience (often referred to as "UX") design is the process teams use to create products that provide meaningful and relevant experiences to users. UX design is not strictly design – design is a step within the process that is created by UX design.
UX is the intersection between a company's business goals and user needs.
How does the process work?
Although this process seems linear, in practice, depending on the research outcomes, you might iterate through previous steps again.
Empathize
Take time to conduct user research to understand your prospective customers.
Synthesize
Analyze and make sense of the data you have collected in the previous step.
Ideate
From the information you have pulled from your data, start generating a range of ideas to push your goals forward.
Prototype
Build mockups of your new product based on the ideas you created previously.
Test
Test your prototypes with users to see if there are any improvements to be made.
Implement
Build your final product.
What is UX research?
It's not a science; rather, it's about making informed decisions and optimizing.
In research, we compare what people say vs. what they actually do.
Good research combines qualitative and quantitative methods.
In qualitative research, you work with a few people and gain many insights.
In quantitative research, you collect data from many people and gain a few insights.
Why do UX?
By developing empathy, testing your assumptions about your users and validating any potential solutions, your company will have a higher probability of finding issues and pivoting earlier in the process, an improved ROI and users that are satisfied with their overall experience.
How can you get started?
Be aware of your biases and list any assumptions you're making at the beginning of a project. Start talking to users if you wish to test any of those assumptions.
Reframe problems as "how might we…" statements to focus on a specific problem but encourage divergent thinking.
Reframe project tasks as user stories: "As a [user type], I want [functionality] so that [benefit]."
Conduct mini workshops using Miro to collect ideas from others quickly and then build consensus.
About the Presenter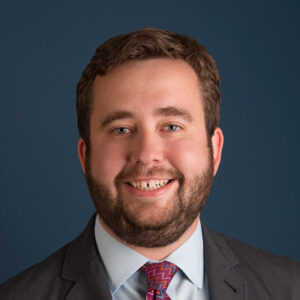 Daniel Edwins
Vice President & Director of Web Services
Daniel joined Neuger in 2008. He is an experienced web designer and developer with a passion for combining design and technology together to do cool things in other areas. He strives for universal design in everything he does, designing for everyone regardless of ability or disability.
A graduate of St. Olaf College with a bachelor's degree in mathematics, Daniel also has considerable computer science and data visualization experience.
He recently completed his Masters of Professional Studies in User Experience Design from the Maryland Institute College of Art (MICA).