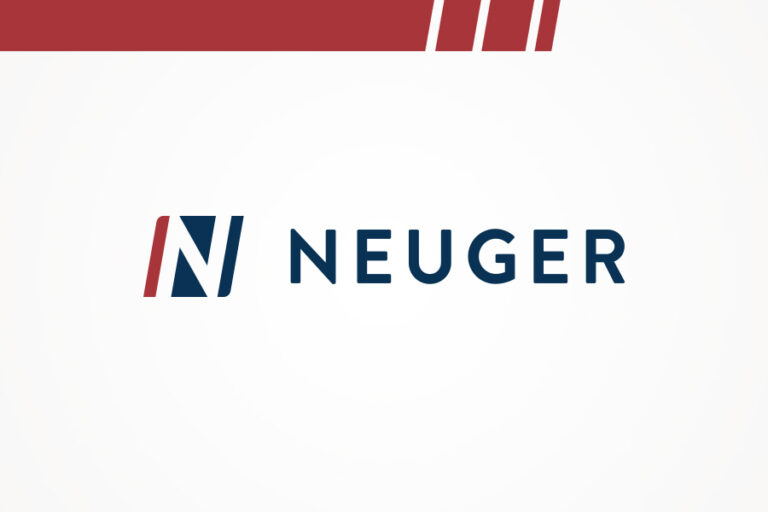 The strategic communications firm now has a bolder look with a shorter name
NORTHFIELD, MINN. (October 8, 2020) – Neuger Communications Group (neuger.com), is excited to announce the launch of its new name, Neuger, streamlining its original name. The strategic marketing communications and public relations firm has also modernized its visual brand – including its logo – following the same branding principles the firm uses to counsel its clients.
"It's important to stay proactive with your brand," says David Neuger, the firm's president and CEO. "We asked the question of who we are and who we want to be and truly believe this refresh is an outstanding reflection of how our firm and our team continues to evolve and grow, while remaining true to our core values."
The design elements include a more contemporary typeface and look. To preserve the firm's brand equity, the logo's slant of the "N" and core colors remained consistent, yet the forward movement of the logo represents the firm's overall proactive and responsive mentality. The more modern design reflects the team's approachable and friendly demeanor.
Although the name and look has changed, Neuger is still the same responsive partner that clients have come to know and trust for their branding, content strategy, graphic design, public relations, research and data, digital marketing, video production and website development. Neuger's values – integrity, excellence and success – are at the core of everything the team does as a company.
David Neuger founded the company in 2002 in Northfield, Minnesota. In addition to its office at 25 Bridge Square in Northfield, the firm has a second location, opened in 2014, in the TractorWorks Building in Minneapolis' North Loop neighborhood. The company, which has grown from two to 15 employees over the course of 18 years, has a sister company, Engage Print, a commercial printer in Northfield. The firm has served more than 300 clients across many industries, including higher education, manufacturing, healthcare, nonprofit, legal and more.
With a lifelong record of philanthropy, David Neuger's vision for Neuger is and always has been a desire and commitment to give back to the community and to invest in people. The firm often takes on pro-bono projects, and since its inception, Neuger has donated more than five percent annually of its pre-tax earnings to charitable organizations.
About Neuger
Neuger is a strategic marketing communications, branding and public relations firm. The firm helps its clients tell authentic stories to the people most important to their success. Working with clients from myriad industries – from agricultural equipment to higher education to financial services – the team understands what it takes to be successful in competitive markets. Learn more at neuger.com.