On July 22, 2020, we discussed the topic of telling your story to the media. This was one of our most well-attended sessions, tallying about 40 participants, who listened in on how to create a reputable media presence for their organizations.
Session Six Hosts
Christine Lekatz, Vice President & Senior Communications Counselor
Raya Zimmerman, Media Relations Specialist
Poll
In our poll this week, we wanted to gauge how our participants have been involved with media relations in the past.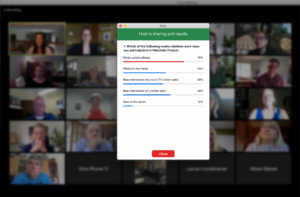 The categories that received the most responses were "wrote a press release" (76%), "been interviewed for a written story" (59%), and "pitched to the media" (53%).
Key Discussion Points
Be as concise as possible with your media pitches. You want to provide enough information to "tease" the topic to pique the media's interest. The call to action is always arranging an interview with a person of authority on the topic.
Be as helpful as possible to the media, offering additional resources, such as photos, timelines, background facts, etc.
Wire service is still available and a viable option – usually for large and/or publicly traded companies – for sharing your media kits (photos, releases, infographics, etc.) to broad audiences. It is becoming increasingly effective to send media kits directly to reporters and media outlets.
To find newsworthy stories within your organization, stay attentive to trends and current news cycles. You might consider tailoring your stories to advertising and editorial calendars, which can be found on publications' websites or you can request them from their advertising staff.
Be genuine and honest in what you're representing. For example, if you use COVID-19 or the racial strife of today's world as a topic for a pitch, make sure you're using reliable statistics and what you're saying aligns with your organization's values. Don't talk the talk if you're not walking the walk.
Maintaining a relationship with the Associated Press is important. It is also smart to reach out to and help reporters since they may come back to you for stories in the future.
Prioritize working with credible news sources.
Key Discussion Questions
Q: What are some ways you can prepare for a media interview and how do you respond to difficult questions during an interview?
Evaluate and fully understand the angle that the reporter is taking on the story. If the angle is general, come up with a list of talking points to get your message across without interrupting the reporter's agenda. If you're asked a question that doesn't necessarily align with your organization's message or a question that you are uncomfortable with, bridge your answer to what your message is.
Presentation is very important. What you're wearing, how you stand, whether or not you make eye contact, etc. is all usable information; act like everything is on the record, because it is. If you're unsure of what the reporter is asking, ask them to rephrase the question to ensure you're both on the same page. Always follow up with the interviewer to see if they received everything they were looking for and when the story will be published.
Q: What's the difference between paid and earned media?
Earned media is mainly comprised of results from public relations outreach using traditional, social media or guerrilla tactics. Media is in driver's seat on choosing what to cover based on their judgment on news value, novelty, audience relevance and timing relevance.
Paid media is media that you pay for. Examples include digital advertising, radio, TV and billboards ads, as well as newer opportunities such as native advertising (social media) and public media sponsorship, venue
advertising, etc.
Q: How do you formulate your list of reporters, bloggers, etc. to work with?
Cision is a commonly used tool that is helpful for building media lists. It has various filter tools (region, industry, size, etc.), which can allow you to create detailed and targeted lists of media outlets interested in your work. Make specific notes and do research on local reporters and who reports on what consistently. Building a media list manually is possible, but can take more time.
Q: Why should I value earned media as part of my marketing strategy?
Third-party credibility – someone else telling your story or interpreting your messaging – is essential for a successful organization. People are more likely to believe something if they hear it from someone else rather than from the organization itself. The ability to repurpose and leverage earned media and have people share that information is a powerful tool for growing your reach and reputation.
Discussion Links
In Summary
Thank you all for joining us this week and contributing to our discussion on how to build relationships with news media effectively. Journalism and reporting continue to play an integral part in how we base our beliefs and values, and having a strong, reputable presence amongst the professionals in the field can ensure long-term success for your organization. We appreciate you all for joining our space and sharing your perspectives.