From the desk of Eric Molho:
Marketers are inundated with tactics and creative ideas for sharing stories. While we know an aligned mix of tactics is effective at reaching audiences, we still have strategic choices to make when thinking about financial and time budgets. What investment will generate the greatest impact? How do we choose the most effective tactics for our needs?
Measuring the impact of our choices can be helpful in focusing efforts – and measuring both qualitative and quantitative data around tactics can yield huge dividends for the future.
Aligning to the Customer Journey
One way to break down the many metrics available is to think through the customer journey and what the appropriate measures of success are in each phase of a customer's engagement. At Neuger, we think of the customer journey as having five traditional phases. Depending on your strategy and line of business, it may be useful to develop a more specific customer journey map.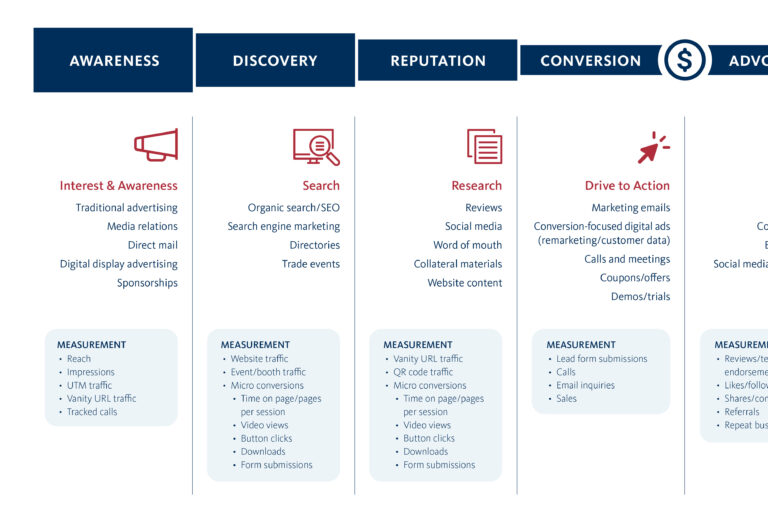 Awareness
Get your brand out there and let potential customers know about you. Metrics in this phase are often high level, but they provide useful data around how customers find you and where they spend time. Awareness is the widest part of the sales funnel, so it can take a long time to see the impact of tactics.
Measurement
Reach and impressions help determine if you are reaching enough individuals to work through the entire customer journey.
UTM and vanity URLs track what pieces are generating interest. These tools also test different creative executions or messages. (UTM stands for Urchin Tracking Module, Urchin being the analytics company that Google bought in 2005 and turned into Google Analytics. UTM is the tracking code that allows you to track events from Google Tag Manager.)
Phone calls can be tracked based on the number called, allowing you to understand which tool or message is making an impact. This digital information can also be used to inform your printed communications in making calls to action more meaningful and impactful.
Discovery
You've narrowed the pool of customers and can now think about how people find and interact with you.
Measurement
Search Engine Optimization (SEO) is critical to helping potential customers find you. By analyzing web traffic, you'll learn the keywords customer use to find you and the tools they depend on during their search.
Not everything happens online! Keeping track of in-person interactions at trade shows, showrooms, offices and other face-to-face meetings can help you learn what's attracting customers.
Deeper analysis of website actions, such as time on page, button clicks, downloads, form submissions, etc., teaches you which content and calls to action resonate with customers.
Reputation
Once customers know you and what you provide, it's time to make sure they pick you over the competition! Having a strong reputation is essential to making sure you're the top choice.
Measurement
Tracking reputable rating or review sites can have a significant impact on reputation. You want to monitor and respond to comments and reviews and incentivize the most satisfied customers to share their enthusiasm with others.
As with the discovery phase, you can analyze how reputation is enhanced by many actions customers take on your website.
Conversion
Finally, a customer is ready to buy! Make sure your marketing mix helps encourage customers to do business with you, not the other guys.
Measurement
Tracking promotions, coupons and offers is critical to measuring their impact on business and refining future promotional tactics.
Tracking the methods and messaging that customers use when reaching out helps make calls to action more effective.
At the end of the day, closing a deal is the ultimate goal. By tracking sales data over time, you can gain insights into the priorities and needs of customers, thereby improving future messaging and tactics.
Advocacy
The cherry on top is when your customers become your advocates! Even in a digitally focused world, nothing beats a word-of-mouth recommendation.
Measurement
A satisfaction survey can offer incredible dividends. This can also be done on a regular basis to track results over time.
Knowing repeat customers is hugely beneficial. You can establish personal relationships and get unsolicited insights. Repeat customers can also teach you about which services and offerings resonate.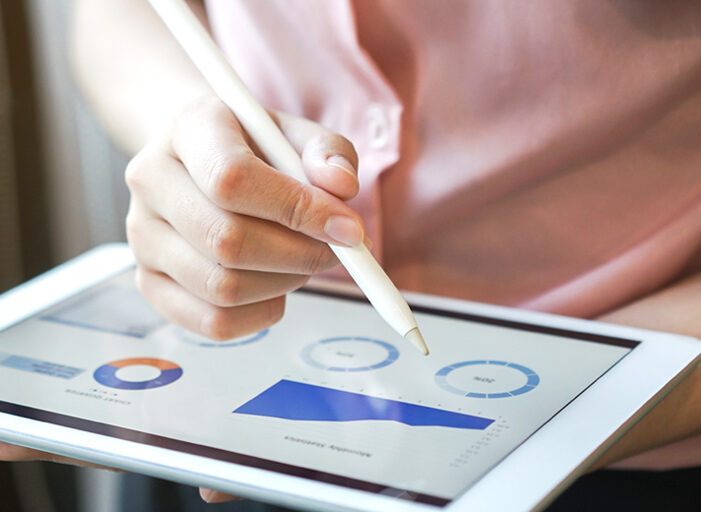 Online Troubleshooting
With so many measures coming from digital strategies, questions often arise about how to improve specific online results. It's easy to get lost in charts and numbers, so here are simple items to consider when improving your online presence.
Low impressions? Check for keyword relevancy, broaden targeting or increase budget.
Low clicks? Improve ad creative, refine targeting or adjust bidding strategy.
High bounce rates? Improve landing page content and make sure ad creative and landing page content align.
Low conversion rates? Adjust bidding strategy, consider tangible incentives and make sure there is a clear call to action.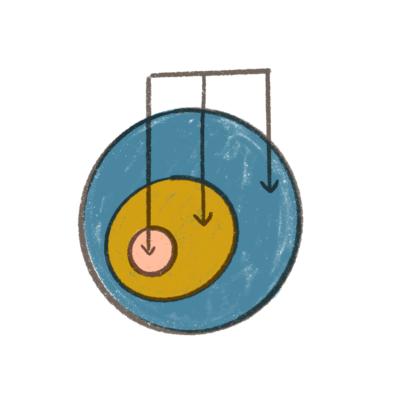 Final Thoughts
It's easy to feel overwhelmed with the number of measures and metrics that are available. We encourage you to focus on quality rather than quantity – a laser focus on two or three high-level metrics will be more beneficial than trying to decipher 40 different indicators. Leverage your own wisdom to determine what metrics are most important.
1. Take Advantage of Testing
Many email and online advertising tools have built-in testing mechanisms, allowing you to quickly compare two or more options before launching your messaging.
2. Make Measurement Ongoing
Build measurement into ongoing processes so it's not a separate project. Satisfaction surveys can be included with receipts; intake questionnaires can include simple inquiries about how customers found you; and coupon codes can be tracked. Rather than putting in lots of measurement effort once a year, find ways to track progress over time.
3. Don't Overlook Qualitative Data
A customer conversation provides robust data that doesn't fit easily into a spreadsheet. There are opportunities to learn more about customer priorities and desires through informal and ongoing conversations. This data can help make sense of quantitative metrics.