HealthFinders Collaborative shares content in many languages
Neuger is helping to quickly communicate COVID-19 updates to the Northfield and Faribault communities that rely on certain health services
HealthFinders Collaborative is a community health center which provides a comprehensive primary access point to health services for marginalized families of Rice County. Neuger is helping to keep their patients, staff and volunteers updated through various communications channels in English, Spanish and Somali.
Since HealthFinders serves underserved populations, it can be difficult to relay the correct information and in their native language. And with the rapidly changing environment around COVID-19, news changes daily.
So, Neuger is acting swiftly to create content for newsletters, health alerts and social media for all key stakeholders, ensuring multiple touch points. Daily communications calls with HealthFinders helps spur this along.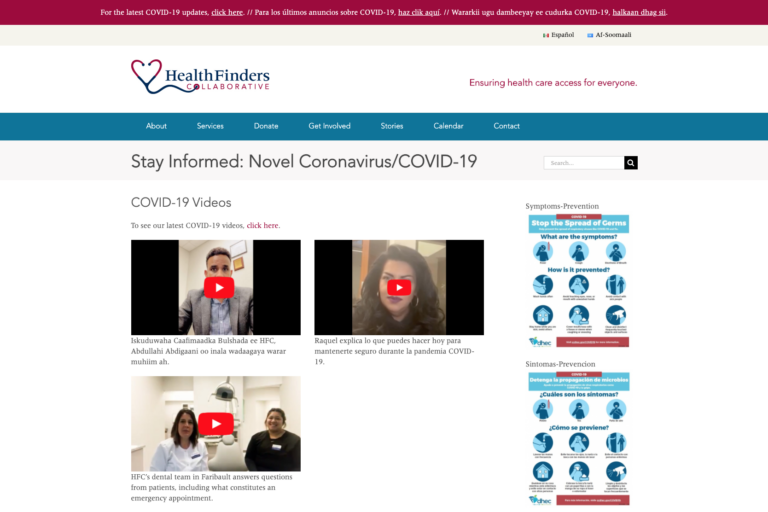 Digital help
Through a newly built COVID-19 landing page, we are posting updates about their clinic hours, unemployment assistance, and general resources in three languages. Patients can consult this information to ensure they are staying healthy and safe. All of their newsletters, videos, social media and website posts are translated and posted to the website and social media.
One of the successes of these quick communications has been homemade videos created by HealthFinders staff in different languages posted to their social media, website and YouTube channel. Videos have reached thousands of people with hundreds of engagements, and the combination of leveraging video in non-English languages has really resonated with their audiences.