As we head into a new year, you're probably putting the finishing touches on your 2021 communications plan. Here are five things to consider as you get ready for the new year and new strategies.
1. Clarify the Context
Perhaps the most valuable part of annual planning and goal setting is the opportunity to reflect. When we are in execution mode, which is most of our days, it's easy to lose sight of what's ultimately going on. An annual communications plan starts with a pause. It's an opportunity to make sure we truly understand what's going on in our business.
Things to consider before planning for the year include:
Your organization's mission/vision/values. Read them. Then read them again.
Evaluation of 2020. This may include rich, formal data with lots of snazzy charts or or it may include some qualitative learning on things that soared or flopped. Ideally, it has some of both. The question to ask is, what did you learn this past year?
The external landscape. Even without a McKinsey study, you probably know a lot about your competitors and clients. What are the headwinds you're facing or the engines propelling you forward?
Organizational priorities for 2021. Read and re-read anything leadership has shared about plans for the new year. What are your colleagues sharing with you about their needs or priorities?
2. Set Your Goals
Using goals helps us be clear about what we are trying to accomplish and create accountability for following through. For a communication plan to be successful, start with three deceptively simple questions:
What's my message?
Who's my audience?
What do I want them to do?
You probably already know that SMART goals (specific, measurable, attainable, relevant and timed) provide even more clarity around how you can measure your progress. To the extent possible, try to focus on outcomes, but we all understand some pieces of the communications puzzle may be process or activity oriented.
3. Set Your Calendar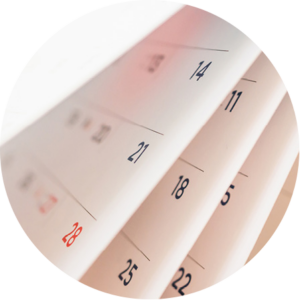 If we've learned anything from 2020, it's that our plans can be quickly altered. Still, it's useful to map out the year as best we can predict to give us a sense of direction and to help us manage staff/budget capacity. Start with the big things you know will happen (or at least, are pretty darned sure will happen!) These could include your annual meeting/conference, special events, a product roll out, annual reports, sales meeting or even holidays. Anything that requires marketing or communications support that we know about becomes a milestone on the calendar.
Once these events are identified, we can backwards map the tactics that are required to make them successful. Collateral, social media, advertising, direct mail, internal communication and public relations all may be part of our communication calendar. If you're a fan of Gantt charts, now's a great time to map out the year and identify what's gonna happen and when.
After these foundational milestones are in place, we start to compare the baseline with the goals we've established. Look for opportunities for alignment. Look for gaps in messages or in reaching your target audience.
4. Think TVO
Now that we have a sketch of the year ahead, it's time to think about tactics. Use the TVO formula: traffic, value, offer. The preliminary work for traffic is understanding where your audience regularly consumes content. The value represents what you offer that connects your audience with what they need. Determine what your audience desires, and be the bridge for them while breaking down the benefits of choosing your services over others. The offer comes with the bridge of trust you've established with your audience. Ensure they are making the right decision by driving home your organization's mission. Some ideas to get you warmed up include:
Be collaborative with similar organizations or even your target audiences. Surveys and customer satisfaction reports can tell intricate stories about what is/isn't working within your plan. Engage on social media.
Finding ways to reach people with physical items such as direct mailings or promotional items. People enjoy receiving physical content, especially during the pandemic.
Create a customer journey map to ensure that you are reaching customers in multiple stages.
Try something new. Try something fun.
5. Monitor and adjust
A colleague of mine is fond of the phrase, plan tight and hang loose. We want to execute our plan with rigor and make sure we follow through on the commitments we've made to our colleagues. Some of what we planned is gonna be awesome. Some of it . . . well, not so much. We adjust our plan as we learn more and as external circumstances change. Build in time to pause during the year and take stock of what's working and what isn't. Review your assumptions and make sure they are still valid. Gather some colleagues to do a simple start/stop/continue exercise. Be proud of the course you've charted, but be ready to deviate if a fallen tree blocks your way.