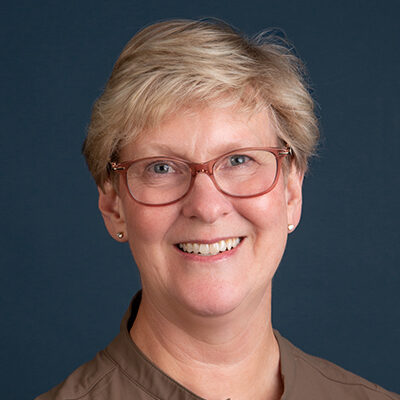 Ruth Neuger
Firm & Properties Administrator | She, Her, Hers
A long-time presence around the office, Ruth Neuger "officially" joined the Neuger team in 2021 as our Firm & Properties Administrator. She is the first face you will see when you walk through our front door in Northfield.
Ruth comes to Neuger with a great variety of experience, with her most recent tenure at our sister company Engage Print, where she was the director of sales and marketing and president of the sign division.
Prior to that, she served at St. Olaf College, where her roles included head softball coach, assistant field supervisor for the Semester in the Middle East and senior admissions officer. She also served as director of education for St. John's Lutheran Church in Northfield and Gloria Dei Lutheran Church in St. Paul.
Her greatest treasure trove of experience, though, was the 15 years she invested at home raising three wonderful children. Depending on the day, she will say this experience ranged from heavenly bliss to herding cats to the toughest job you will ever love.
Ruth graduated from St. Olaf College with a degree in Physical Education and a coaching certification.
Some of the skills she brings to Neuger are the ability to organize, the ability to think on her feet and go with the flow, and an internal drive to serve our clients well.
Favorites
Favorite TV Show:
The West Wing
Favorite aspect of my job:
It's a tie between enjoying the collegiality of the brilliant people (including clients) I get to work with and greeting people as they walk through the front door.
Favorite trip destination:
Traveling with my husband, Dave Neuger, to Italy and Germany!