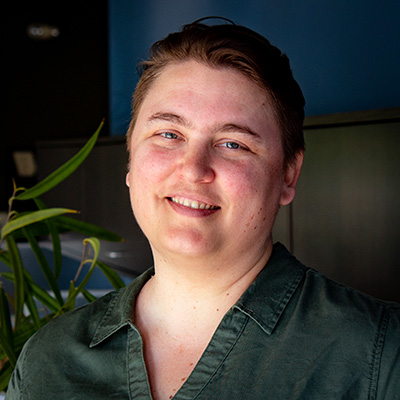 Angela Gustafson
Web Developer | She, Her, Hers
Angie joined Neuger as a web developer in 2023 and comes to us with a certificate in full-stack web development from the University of Minnesota. She is a creative and analytical thinker with a knack for collaboration. Before her start at Neuger, Angie worked for the Dakota County Library System, helping improve user internet accessibility among many other interesting things.
Angie received a Bachelor of Arts degree with a major in English and secondary education from Luther College, and a Master of Library and Information Science degree from St. Catherine University.
Outside of work, Angie enjoys board games, embroidery and writing, including memoir writing about the years she lived in Africa. Charterstone and other legacy-type games are her favorite because she likes the story elements and the "unlocking" of events. She's also done some blogging and has written some sci-fi stories for National Novel Writing Month (NaNoWriMo).
Favorites
Favorite TV Show:
Firefly! I can rewatch it anytime, plus I enjoy the character dynamics of the crew, the scrappiness of their adventures and the way nothing goes according to plan. The Firefly board game is also one of my all-time favorites.
Favorite Restaurant:
India Garden in Rochester, Minnesota is delicious – especially the saag paneer and rogan josh, which is a lamb curry.
Favorite Road Trip or Flight Destination:
The Pacific Northwest for its climate, mountains, trees, water and islands. I love that it's always misty and mild. The Olympic Peninsula, San Juan Islands and Vancouver Island are particularly special because I lived in the area – and my child was born on the Olympic Peninsula.