Case Study
Gemini Customer Web App Improves User Experience
The Gemini Partner Portal is a web app developed in partnership with Neuger. The web portal allows Gemini's customers – who are authorized resellers of Gemini's sign, memorial and wayfinding products – to view quotes and orders, convert quotes to orders, see order tracking, and manage account information and users.
The Challenge
Gemini partnered with Neuger in 2018 to develop an online quoting system called TrueQuote and new features were rolled out in 2019. The next business challenge was to move the Partner Portal to another platform, allow multiple users to log in at each company, and sync data with the company's Enterprise Resource Planning (ERP) system. Syncing with the ERP could allow users to update their information and view quotes and orders, providing more visibility and convenience for Gemini customers and staff.
The Strategy
The strategy for the project was built upon two core elements. The first objective was to develop a user experience designed to help users access past orders quickly. The second objective was to integrate with Gemini's ERP system, Harris, to sync customer and user information, and to display historical quotes and orders.
Prototyping the User Experience
In order to provide the best user experience, we first conducted user research and interviewed partners. We created a series of interactive wireframe prototypes based on our findings using a rapid prototyping and design tool. Prototypes like this allow us to improve user experience design challenges before we begin writing any code.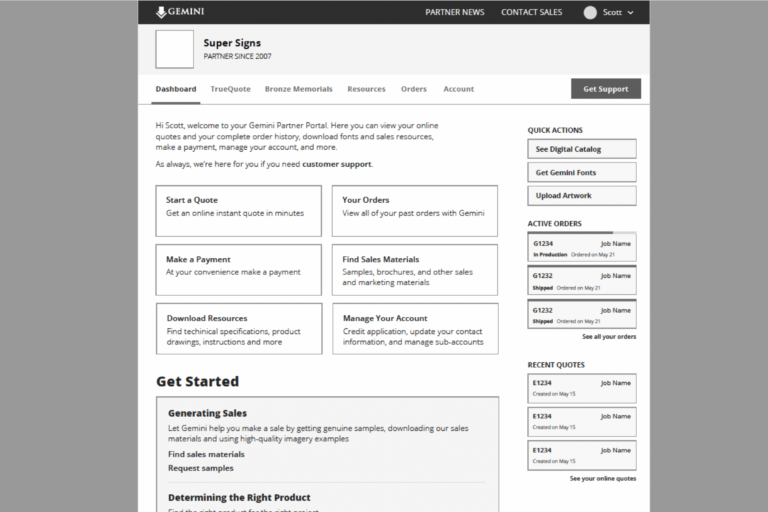 A wireframe depicting the user experience of the Partner Portal's dashboard.
Integrating With the Harris ERP
ERP tools offer a powerful resource for organizing many elements of a corporation, including financials, HR and payroll, inventory and sales data. Our team of developers created a two-way sync between Harris and the Partner Portal. If a user updates their company or personal information, it is now in sync with their internal systems. Additionally, quote and order data from their internal systems is now visible to users on the web.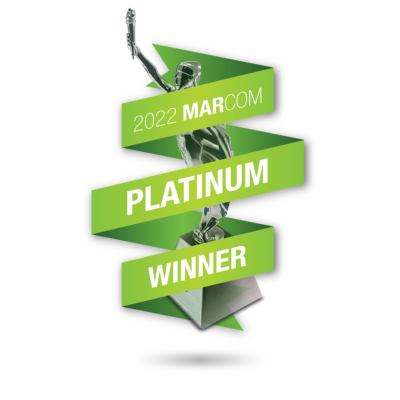 The Results
Customers now have their current and historical order data at their fingertips. Nearly 20,000 individuals at 11,000 companies actively use the Gemini Partner Portal.
Special Recognition
In November of 2022, Neuger and Gemini were awarded a MarCom Platinum Award for the Gemini Partner Portal. MarCom Awards recognizes outstanding achievement by creative professionals involved in the concept, direction, design, and production of marketing and communication materials and programs. Entries come from corporate marketing and communication departments, advertising agencies, public relations firms, design shops, production companies and freelancers. Judges are industry professionals who look for companies and individuals whose talent exceeds a high standard of excellence and whose work serves as a benchmark for the industry.