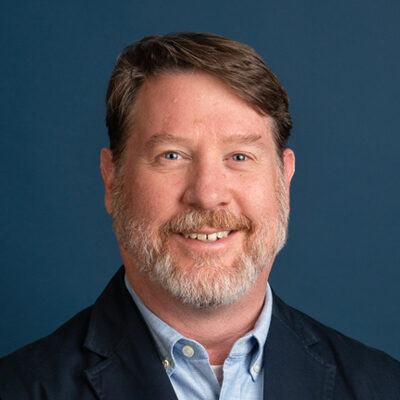 Chad Ridgeway
Senior Graphic Designer | He, Him, His
Chad joined Neuger in 2021, bringing with him a wide variety of design experiences.
Before coming to Neuger, Chad served as a designer for Mayo Clinic's in-house creative group for 17 years. In that role, he spent several years visually redefining their magazines. Chad also worked at Carmichael Lynch, where he served on the Harley-Davidson MotorClothes account. (Photoshoot locations included the Grand Canyon, New Orleans and the PIMA Museum!) While there, he also worked on the American Standard account, where he tried to make toilets look appealing.
Chad earned his Bachelor of Fine Arts in Illustration from Minnesota State University Moorhead. He's a self-described packaging nerd who prefers CDs and vinyl records over digital renditions when listening to his music library, which includes genres from across the spectrum – from west African funk and indie hip-hop to Jamaican dub, avant-garde string quartets and film scores.
A visual creative at heart, Chad's favorite career project to date was working on a Harley-Davidson MotorClothes photoshoot, where he was part of a crew that included wardrobe, a bike wrangler (props!), photographers, riders, the client, producers, location scouts and a caterer. (Plus, waking up before the sun over dunes near the Salton Sea, and then driving to the California redwoods for the next photoshoot wasn't too bad either!)
Favorites
Favorite TV Show:
I was a latecomer, but The Wire is a series I've been through twice. It's that good – both content and production.
In my spare time I like to:
Watch soccer. In person when I can. High school. Collegiate. MLS (Go Loons!). And when I can't travel to matches in Europe, I rely on all the broadcast streams to bring me the Premiere League (Go Spurs!), the Bundesliga and La Liga.
Favorite aspect of my job:
If we designers were a bit smarter, we could unite and make the world a better place. (Then take it over!)